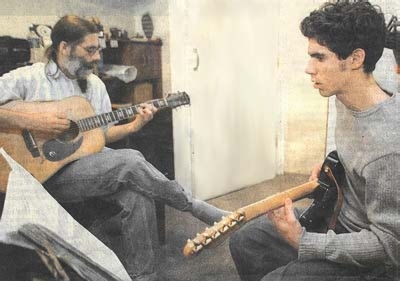 Original Caption

(photo by) JACK HANRAHAN/Staff photographer

Paul Holmes, right, listens while guitar teacher Frank Singer strums a chord during a recent jazz guitar lesson. Holmes, a senior at McDowell, will receive a JazzErie scholarship on March 30. He'll attend the Berklee School of Music in Boston this fall.
Frank and Paul Holmes at lesson

This picture accompanied an article on Paul Holmes. For article text, click here.

Paul studied with me for many years. Although the bulk of it was on guitar, we began with piano. The first tune we worked on was Living Color's Cult of Personality. It was pretty interesting on piano.

Click photo to return to the thumbnail group.