Santorini was written over a 5-year period, each movement written in time signatures in which the time divisions progress from from 35 to 39. The rhythmic sub-groupings of each movement are indicated in the beaming. The melodic and harmonic content are generated from a heptatonic scale: D, Eb, F#, G, A, Bb, C#, with primary focus on a D major or G minor tonality within each movement.
The audio for the first three movements is from a recording made by Frank Singer in 1994 at Cycling Troll Studios in Fairview, PA. From the composer/performer:
"In my guitar studies I was exposed very early to Classical Music, as well as Chet Atkins-style fingerpicking and basic single-note pick technique. I have always played a little Classical for enjoyment, but have focused my primary work as a guitarist in Jazz and American Music, playing pick-and-finger style and concentrating on improvisation. I worked on the first three movements in preparation for the recording in 1994, honing my right-hand technique as best I could. I hope it is pleasing to listen to; at the very least it gives the proper tempo and volume for the movements."
The purpose here is to provide a sonic representation of the music to assess as a listener, a composer, or a potential performer of the music.
In keeping with that same idea of a sonic representation, the last two movements are presented in a sequence created from the score of the notation. This was done in an iPad program called Notion which allows entry from a guitar grid or a piano grid, and plays back the notation extremely well. This also means that the performance lacks any subtle changes of tempo, dynamics and phrasing that a human player will add, and in some ways the performance is too "perfect". It does give a very useful reference for the tempo, sound and effect created by the music.
In addition to anyone's listening enjoyment, this is presented as music that may be included in compositional studies with Frank Singer, and as music to be performed, individually or as the five movement suite.
About the Composer:
Frank Singer received his Bachelor's degree in Composition from Berklee College of Music in Boston, MA in 1980. Frank received the Richard Levy Award in Recognition of Outstanding Musicianship for Contemporary Composition from the college in 1980. After attending post-graduation studies with private instructor Charlie Banacos until 1982 Frank began performing his original music in the Boston area, primarily with Cat's A Bear.
After moving to Erie, PA in 1989, other compositional opportunities arose, adding to the ongoing and relocated Cat's A Bear. In 1994 Frank joined One World Tribe, contributing a number of compositions, both individual and in collaboration. The title track of OWT's first CD Unity And Diversity earned the Finalist, World Music Category of the John Lennon Songwriting Contest in 1999.
In 1995 Frank was commissioned by Gannon University to create music in celebration of Erie's Bicentennial. The result was Generations, a five movement string quartet for two violins, violin cello, and electric guitar. The first four movements focus on stylings from successive musical eras, with the fifth tying all the movements together in an extended finale.
Frank continues to compose for these groups, write Classical music, and is continuously trying to organize, catalog and present well over 200 compositions. You can find out more about Frank at www.franksinger.com. Frank teaches music at his home in West Millcreek, PA, and online at www.onlinelessonswithfrank.com. Composition students are welcome. Instrumental studies include Guitar, Piano, Drums, Electric Bass, Voice, Sax and Theory.
You can email Frank at frank@franksinger.com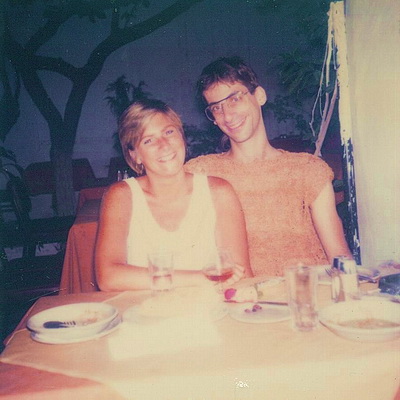 Mary Connerty and Frank Singer in Santorini, Greece 1986
The inspiration and the composer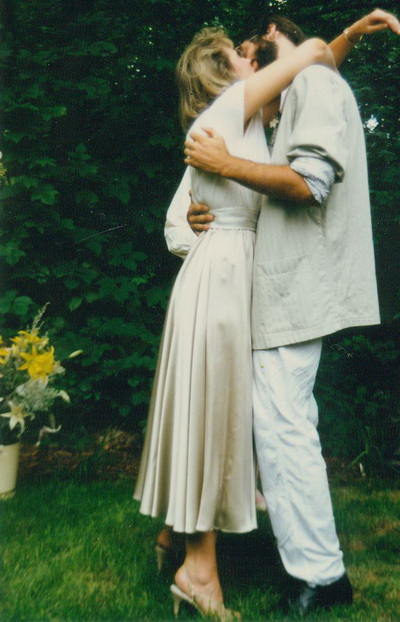 Mary and Frank at their Wedding in 1988
The result!