JAM ALONG CDs - JAM ALONG BLUES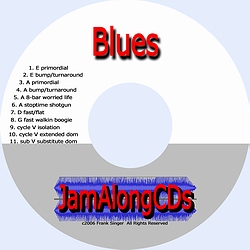 The

Jam Along Blues CD

is a fun learning tool that provides the opportunity to play along, or sing along, with clear, well-balanced backing tracks that have rock-steady time. With eleven instrumental blues progressions at your disposal, you can jam along any time you want to. These tracks can really help you get the feel of playing the blues, and make the time spent learning fun and easy.

Blues is one of the foundations of American Music, and provides a foundation for an improviser in many of the different styles you hear in today's music. Rock-and-Roll, Jazz, Bluegrass, Jump-Swing and many other music forms are saturated with blues harmony and melody.

Blues is easy to play for beginning musicians, and can provide a challenge to the most advanced performer. Jamming with the Blues Scale, the Minor Pentatonic Scale, and the Dorian Scale is immensely satisfying. At the same time, the most comprehensive collection of techniques can be applied, including the use of Modal Scales, Functional Harmony, and Jazz Line Techniques.
Jam Along CDs are easy to use
Simply play the CD in any standard audio CD player or computer CD drive, or download the audio tracks, and jam along. There are no solos, vocals or melodies, just background tracks, so you can really stretch out. Each track lasts at least five or six minutes, so there is lots of solo time for you to try out new ideas and work on improving old ones.
Materials are provided online in PDF format at www.jamalongcds.com/blues/bluesmaterials.htm , including all progressions and solo scales for concert pitch, Bb, and Eb instruments.
Purchase Links: Apple iTunes | Amazon.com | Amazon Music
click here to visit jamalongcds.com
Who can use Jam Along CDs?

Guitarists
Pianists
Drummers
Bassists
Keyboard Players
Saxophonists
Trumpeters
Harmonica Players
Trombonists
Vocalists
Any Melodic Instrument
Any Percussion Instrument
Anyone who wants to Jam Along!


More fun than a metronome!
Highly portable!
Variable tempos, keys and forms.


11 Blues Shuffles

Primordial Blues (E)

Bump/Turnaround Blues (E)

Primordial Blues (A)

Bump/Turnaround Blues (A)

Worried Life Blues (A)

Shotgun Blues (A)

Fast and Flat Blues (D)

Walkin' The Boogie (G)

Isolation Blues (Cycle of Fifths)

Extended Dominant Blues (Cycle of Fifths)

Substitute Dominant Blues (Tritone Substitution)

Credits

Recorded at 1 Grizzly Cat Place Studios

Drum Sequence, Keyboard Bass, Organ, Piano, Horn Synthesizer, Guitar Parts played, arranged and organized by Frank Singer

Produced and Mixed by Frank Singer

Apple iTunes | Amazon.com | Amazon Music

Samples with solos by Frank Singer:
[note: mp3s require an mp3 player like free winamp]
12-Bar A (Bump/Turnaround): download | stream
Shotgun Blues: download | stream