J.D. AND THE SONS OF RHYTHM - ASTRAL WORLDS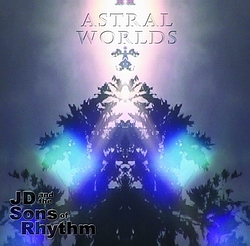 Glimpse the Astral Worlds of Music

Astral Worlds portrays a variety of sounds, from the breezy funk feel of Rincon Sunsets to the pressure of High Density Intensity to the multiple transformations of Reentry. Many aspects of the dream are covered, as you project through Astral Worlds' portrayals of these realms, and eventually return refreshed, delighted with the world you're in.

Astral Worlds is double album number eleven from J.D. and the Sons of Rhythm, a fact which shows the depth and range of creativity from which this collective improvisation ensemble draws. Although there are similar starting points for textures and grooves, each of the previous ten albums adds its own unique signature to the series. Different configurations of players, particularly bass players, and layered overdubs, create as much contrast as changing a tempo or rhythm pattern.

All together, this cast of skilled and experienced performers allow themselves to once again be subjected to the scrutiny of unrehearsed ensemble playing with a high degree of success. As one of the musicians put it, "We forget how difficult this is until a new player comes in, and you see that look of vague panic as we just start recording as soon as J.D. starts playing, without any discussion about what's coming!" Fortunately, they all seem to adjust pretty quickly, and put themselves deeply enough into the music to transport you....to Astral Worlds.
Purchase Links: Bandcamp | Apple iTunes | Amazon.com | Amazon Music
click here to visit jdhopkins.com
JD and the Sons of Rhythm on Bandcamp

Credits:
production.....J.D. Hopkins
cover photo.....Sue Buck
cover design.....Mark Saunders
engineering, mix, mastering.....Randy Hetherington
recorded at Midtown Recording
CD Duplication by First Art Records
[CDR Primera Bravo Disc Publisher]
©2005 J.D. Records