J.D. AND THE SONS OF RHYTHM - IMAGINATION DOCTORS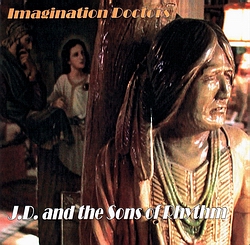 IMAGINATION DOCTORS will tweak your imagination, and heal your ear.

The first disc of this two volume set contains 10 short pieces, created by having Frank and Mike play with the drummers for the first pass, and then overdub various other sounds and parts to create layered textural vignettes. Disc two contains a 46 minute cut sandwiched between two more typical J.D. improvisations. The first, Deep Purple, catches the group in a J.D. style rock review, having fun with leads and power chords amidst the spontaneous communication. Talking in Tongues finds Singer exploring a strange vocal-like guitar sound with Stefanelli and the rhythm section talking back. A.D.D., the long middle track, casts shades of style and color on a common thread, passed from player to player, and then combined in Ornette Coleman-like harmony.

The move toward the generic accelerates. Each town fills with the same stores, enclosed in the same malls. Planned communities sprawl across acres. Radio stations play the same songs in every city. Somehow, the world seems to shrink. Get out from under the sameness of music and the world, and pay a visit to the IMAGINATION DOCTORS.
Bandcamp | Apple iTunes | Amazon.com | Amazon Music
click here to visit jdhopkins.com
JD and the Sons of Rhythm on Bandcamp

Credits:
production.....J.D. Hopkins
cover art and design.....Sue Buck
engineering, mix, mastering.....Randy Hetherington
recorded at Midtown Recording
CD Duplication by First Art Records
printing by Diane at PIPerie