J.D. AND THE SONS OF RHYTHM - LIVE AT FORWARD HALL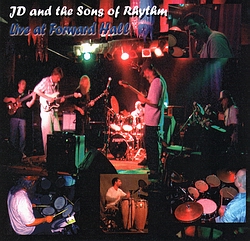 "It's cutting-edge muzak from God..."
"Music like this makes even celestial bodies lean in and listen"
"If your music was pumped through public sound systems all over, people would go around a lot healthier, happier, and with energy."

This music will keep you jamming, and having fun. J.D. and the Sons of Rhythm play because they absolutely love to play. This format gives them the freedom to explore, stretch and create with their fellow musicians, and share it with everyone. You will love the result!
With the excellent recording facilities of Midtown Recording Studios literally connected to Forward Hall Concert Club, the technical side of the recording is first-rate. The sound is studio quailty without losing the live feel generated by the energy and synergy that cold February Erie evening. Two full CDs of live, spontaneous, creative improvised music is the result.
click here to visit jdhopkins.com
JD and the Sons of Rhythm on Bandcamp

Credits:
production.....J.D. Hopkins
photos.....Sue Buck, Jayson Hopkins, Frank Singer
cover design.....Sue Buck, Frank Singer
engineering, mix, mastering.....Randy Hetherington
recorded at Midtown Recording
CD Duplication by First Art Records
[CDR Primera Bravo Disc Publisher]
printing by Diane at PIPerie
recorded on February 16, 2004
©2004 J.D. Records
Quotes from Professor Don Huber (1 & 3), and Kirk Nesset, WARC FM (2)