J.D. AND THE SONS OF RHYTHM - MUSIC FROM ANOTHER PLANET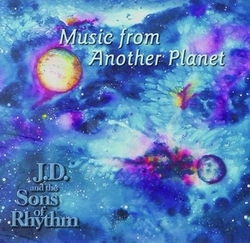 Music From Another Planet brings you fifteen tracks of collective jazz improvisation on two discs from J.D. and the Sons of Rhythm.
This album brings together a regular assembly of musicians who all gig with one another in various guises. This familiarity shows in these strong, coherent and moving improvisations. This also marks the first recording with two bassists on six of the same cuts, working incredibly well!
Bandcamp | Apple iTunes | Amazon.com | Amazon Music
click here to visit jdhopkins.com
JD and the Sons of Rhythm on Bandcamp

Credits:
production.....J.D. Hopkins
engineering, mix, mastering.....Randy Hetherington
cover art.....David Grajek
cover design.....Mark Saunders
recorded at Midtown Recording
CD Duplication by First Art Records
dedicated to Cootie Harris