J.D. AND THE SONS OF RHYTHM - PRIMATE GESTURES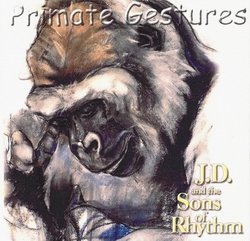 Primate Gestures brings you twenty-two tracks of collective jazz improvisation on two discs from J.D. and the Sons of Rhythm.
Gestures brings a core group of players back together, and their growing familiarity allows for deeper levels of exploration between them. With the exception of two multi-tracked cuts, this album portrays the conversations of the group coming to know itself through music.
This release has a classic sound, with improvisations showing a developing intensity, yet still explorative and light to the touch. The musicians now known as the "core" are becoming the backbone of this collective, and Primate Gestures stands tall on this strength.
Bandcamp | Apple iTunes | Amazon.com | Amazon Music
click here to visit jdhopkins.com
JD and the Sons of Rhythm on Bandcamp

Credits:
production.....J.D. Hopkins
engineering.....Keith Homerski & Randy Hetherington
mix.....Keith Homerski & Randy Hetherington
cover art.....Sue Buck
cover design.....Mark Saunders
recorded at Midtown Recording
CD Duplication by First Art Records