J.D. AND THE SONS OF RHYTHM - SMOKE SHADOWS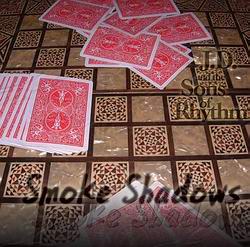 SMOKE SHADOWS begins in the throes of a conversation about life. The opening cut seems to let you in the door to a party already in progress. Soon, you are involved, following as more threads are added to the conversation.
If you follow the threads, they will lead you to the end of the first disc, and into the second. That is where the band kicks into a higher gear, spinning Ornette Coleman-like textures and Miles Davis-like jams.
By the end of disc 2, you are transformed. Go beyond your limits. See moments captured, SMOKE SHADOWS frozen in time.
Bandcamp | Apple iTunes | Amazon.com | Amazon Music
click here to visit jdhopkins.com
JD and the Sons of Rhythm on Bandcamp

Credits:
production.....J.D. Hopkins & Randy Hetherington
engineering, mix, mastering.....Randy Hetherington
cover photo.....Jordan Hopkins
cover photo.....Sue Buck
cover design.....Mark Saunders
recorded at Midtown Recording
CD Duplication by First Art Records