J.D. AND THE SONS OF RHYTHM - FAMILY VALUES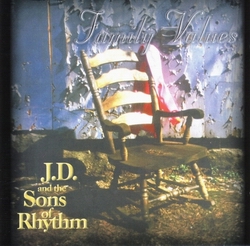 Family Values brings you fifteen tracks of collective jazz improvisation on two discs from J.D. and the Sons of Rhythm.
This album marks the first appearance of many of the current J.D. and Sons musicians, mixed in with others all brought together specifically for these sessions. These explorations have a spontaneous excitement that has become a foundation of the group's approach.
Bandcamp Includes Jammin' at Midtown as Bonus Tracks | Apple iTunes | Amazon.com | Amazon Music
click here to visit jdhopkins.com
JD and the Sons of Rhythm on Bandcamp

Credits:
production.....J.D. Hopkins & Keith Homerski
engineering.....Keith Homerski & Randy Hetherington
mix.....Keith Homerski & Randy Hetherington
cover photo: Autumn Hopkins-Homerski
cover design.....Mark Saunders
recorded at Midtown Recording
---
---
>>site map>> >>site search>> >>scrolling list>>




Copyright © 2002 - by Frank Singer and Naked Kitty Productions. All rights reserved.
---