---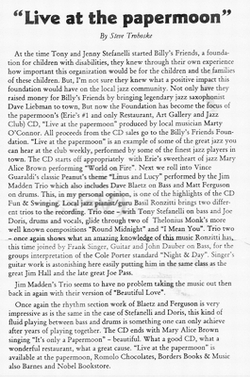 LIVE AT THE PAPERMOON [Steve Trohoske]
At the time Tony and Jenny Stefanelli started Billy's Friends, a foundation for children with disabilities, they knew through their own experience how important this organization would be for the children and the families of these children. But, I'm not sure they knew what a positive impact this foundation would have on the local jazz community. Not only have they raised money for Billy's Friends by bringing legendary jazz saxophonist Dave Liebman to town, but now the Foundation has become the focus of the papermoon's (Erie's #1 and only Restaurant, Art Gallery and Jazz Club) CD, "Live at the papermoon" produced by local musician Marty O'Connor. All proceeds from the CD sales go to the Billy's Friends Foundation. "Live at the papermoon" is an example of some of the great jazz you can hear at the club weekly, performed by some of the finest jazz players in town. The CD starts off appropriately with Erie's sweetheart of jazz Mary Alice Brown performing "World on Fire". Next we roll into Vince Guaraldi's classic Peanut's theme "Linus and Lucy" performed by the Jim Madden Trio which also includes Dave Blaetz on Bass and Matt Ferguson on drums. This, in my personal opinion, is one of the highlights of the CD Fun & Swinging. Local jazz pianist/guru Basil Ronzitti brings two different trios to the recording. Trio one - with Tony Stefanelli on bass and Joe Dorris, drums and vocals, glide through two of Thelonius Monk's more well known compositions "Round Midnight" and "I Mean You". Trio two - once again shows what an amazing knowledge of this music Ronzitti has, this time joined by Frank Singer, Guitar and John Dauber on Bass, for the group's interpretation of the Cole Porter standard "Night & Day". Singer's guitar work is astonishing here easily putting him in the same class as the great Jim Hall and the late great Joe Pass.
Jim Madden's Trio seems to have no problem taking the music out then back in again with their version of "Beautiful Love".
Once again the rhythm section work of Blaetz and Ferguson is very impressive as is the same in the case of Stefanelli and Dorris, this kind of fluid playing between bass and drums is something one can only achieve after years of playing together. The CD ends with Mary Alice Brown singing "It's only a Papermoon" - beautiful. What a good CD, what a wonderful restaurant, what a great cause. "Live at the papermoon" is available at the papermoon, Romolo Chocolates, Borders Books & Music also Barnes and Nobel Bookstore.
Steve Trohoske
JazzErie Newsletter February, 2003
[ back to press page ] [ top ]