J.D. AND THE SONS OF RHYTHM - COLORS OF TYME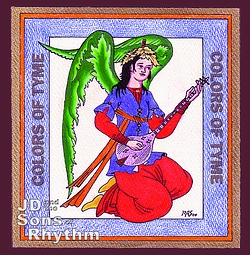 Colors of Tyme makes double disc 13, totalling 26 sides

The musicians who created this music are veterans of this project, and play together in all measure of situations. Every style of music is represented in these bands, which include Cat's A Bear, One World Tribe, Ahimsa Beat, Too Big Power, Potato Battery, 3bop, Starfish, Weirdo Theater, Valerie Horton Brown Project, and any number of side-projects, free-lance gigs, and recordings.
All this is to say that the music gels for a reason. There is experience of the jam, of each other, and of music itself. This familiarity enhances the process of spontaneous creation, allowing players to guage the direction the music is taking and add their input in a musical way.
This freedom is not anarchy. The concentrated listening that these musicians must do to produce this music is tempered by the years of performance experience they share. Knowing innately the effects music has on the listener colors their instincts and judgement which gives the music coherence. In short, it grooves as it moves.
Bandcamp | Apple iTunes | Amazon.com | Amazon Music
click here to visit jdhopkins.com
JD and the Sons of Rhythm on Bandcamp

Credits:
production.....J.D. Hopkins & Frank Singer
cover art.....Richard Schindler (RAS)
cover design.....Mark Saunders
engineering, mix.....Randy Hetherington
recorded at Midtown Recording
CD-R Duplication by First Art Records
©2009 J.D. Records