ONE WORLD TRIBE
Music for the People
Kennedy Thompson first spoke to me about One World Tribe in 1992. He asked if I would be interested in playing keyboards for a group he was putting together. Kennedy had hired me previously to perform his Latin jazz ensemble arrangements, which is where I first met fellow Tribe members Mark Marchant and Matty Walker, and bassist Kenny Cornelius of J.D. and the Sons of Rhythm.
Almost a year later, he called to begin scheduling rehearsals. Our first cover tune was One by Frankie Beverly and Maze, followed by a crop of Santana, The Meters, Bob Marley, Ruben Blades, and many other Latin, funk, reggae, World Beat, and Hip-Hop songs. These first rehearsals consisted of Kennedy, myself, Kenny Hollis [funky stroke], Mike Chin, Brad Amidon, Preach Freedom, Matty Walker, and occasional strays and auditions.

[ top ] refresh page for new photo
After almost a year of preparation, the group began playing in local and regional clubs. Lead vocalist / frontman Preach connected with the crowds immediately, and began to expand the members of One World Tribe to include all of the human family. We also began working on our original material, composing and arranging, learning each other's style and ideas, and field-testing the material in clubs and at festivals. It was during this time that Preach and I co-wrote Who Gets The Money? and Go Forward, two of the fourteen songs on our first CD release.
I also wrote Unity And Diversity during this time, which became the title track of that first CD. This song also won Finalist World Category in the John Lennon Songwriting Contest in 1998, and will be included in an upcoming Green Party CD, released as a fundraiser for the 2004 Presidential Election. This classic One World Tribe debut CD has just been re-released, and is available for purchase here.
After a few more years of extensive regional roadwork, One World Tribe established its presence in Buffalo, Pittsburgh, Rochester, Syracuse, and throughout the Eastern Great Lakes Region. More material, experience and fans led to the need for another release, which became The World Today. Recorded at Midtown Recording Studios, this album captures the live feel of the group, with seven club-tested originals, including the title track by Thompson, Hollis, Preach, and Jimmy Jackson.
Using partial funding from a PENNPAT grant award, the third recording, Armed and Dangerous, was released in 2008. This album focuses on Hip-Hop, combining lyrical style with Reggae, World Beat, Latin, Funk, and of course, the Hip Hop sound itself. Emcees Preach Freedom, chelaBOP and D. J. Chilly J. are joined by Kingpin and guests Buju, Dyce, Xodous, King Tappa, and Slice the Mic Snatcha on multiple rounds of Hip Hop throughout the disc. One World Tribe is back to work in 2009 after a hiatus for health reasons. Check the OWT Calendar for upcoming gigs and events.
[ top ]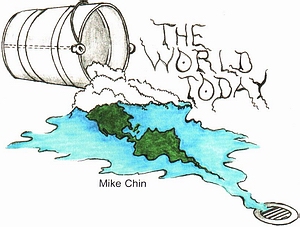 Visit the One World Tribe website


Phil Joe Frank Tony
---