CAT'S A BEAR - TITO: IN SEARCH OF A REVOLUTION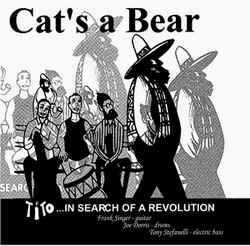 It is said that when the student is ready, the master will arrive. So it was, when Tito arrived on the path of Cat's A Bear, and the Tito Era began. "In Search of a Revolution" is the first album produced under the influence of Tito, and marks the return to live instrumentation after the Mac Era mixture with synthesizers and samplers.
Originally released as a cassette tape, this newly reissued CD version showcases a lineup of Frank Singer, Joe Dorris, and Tony Stefanelli, the power trio of jazz, in eight funk and latin originals. Joining in on Positive Energy, Phil Papotnik joins the band permanently for "Tito In Wonderland", the second Tito Era release.

This Album is now part of The Cycling Troll Sessions on Bandcamp.