[ Back to ORIGINAL MUSIC page ]
KNICK'S KNACK by Frank Singer ©1993 page 1 of 2
KNICK'S KNACK page 1 page 2 solo changes
This chart is recorded on Cat's A Bear's "Tito: In Search of a Revolution".
This tune's harmony/melody structure is based on a 3-note intervallic cell consisting of a second above a fourth. This occurs harmonically as voicings of the top-melody, and melodically as note groupings within larger lines. The main occurrence of the intervallic cell is a major-second above a perfect-fourth, but adjustments are made for harmonic representation in some of the voicings, and the triplet run on the Ab7alt, which ascends in a minor-second, perfect-fourth configuration.
The changes are based on a beautiful tune called Right to Love. I have used them several times for different tunes.
The solo changes are at the end of the JPEG chart on the second page. They are in text.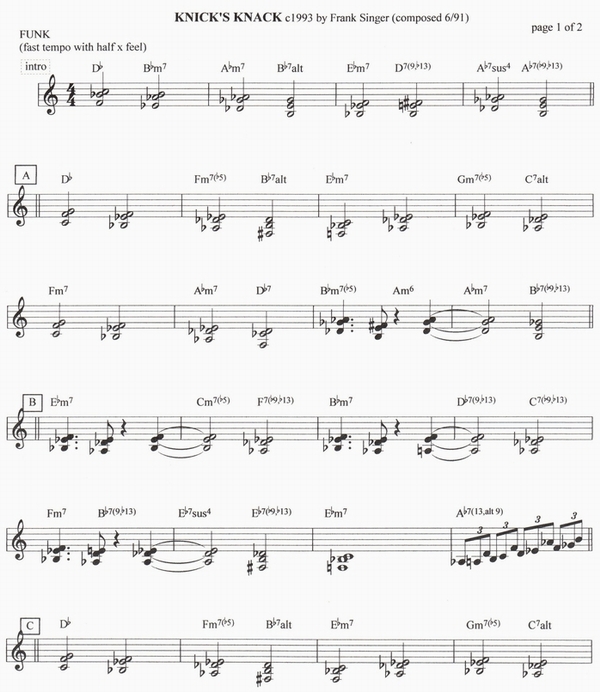 page 1 page 2
CHART LIST
Jazz
Bearskin Rug
Bill's B.S.
Blue Tito
Ceiling Street
Change
Current Sea
Double Felix
Eye of the Pyramid
Frank's Lament
HSA
In-cog-TITO
Knick's Knack
Legbones
Prime Dub
Peppermint Tea On Friday
Theme For Eric And Eric
Pop
BMUC LYRIC
Unity and Diversity LYRIC
Unity and Diversity CHART
Classical