FRANK SINGER - oFF tHE tOP: standards 1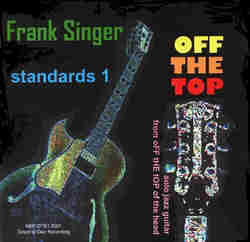 In jazz, what you bring to the music is your individual taste. You may take note of jazz guitarist Frank Singer's rhythmic and harmonic approach on oFF tHE tOP: standards 1, or you might be taken in by the music's romantic effect. In either case, you will be carried along in the flow of the moment.
oFF tHE tOP: standards 1 offers you up a smooth delicacy of jazz standards on solo guitar. From the opening phrase of There Will Never Be Another You, to the closing riffs of Donna Lee, there is music; music that can be soothing with your conversation and dinner, sweet with romance, and still keep your foot tapping.
You will hear the saturation of yesterday's swing, and the respect for the timeless vehicles of that era. Building on the styles of guitarists Joe Pass and Wes Montgomery, Singer brings you this tradition of jazz guitar playing on standards 1.
It is also music which you will play again and again. Jazz time, the essence of the music's heart, is here in full swing, and in rhythmic latin beats. You can follow the tune, while the spontaneous performance leads you from variation to variation.
oFF tHE tOP: standards 1 is an album that can carry you through many parts of your day. Order a copy, sit back, relax and enjoy 72 minutes of peaceful music.
Click here to purchase oFF tHE tOP: standards 1 through CDBaby.com
NKP OTS1 2001
Frank Singer: Solo Guitar

click here for online purchase

click link to hear a sample of each tune:
download | stream

read reviews of oFF tHE tOP: standards 1:
John Chacona
Al Lubiejewski
James McQuiston | neufuture.com
Just Jazz Guitar

read the words of satisfied customers:
Glenn Taylor
Sally Burdick
Ceci Bopp

There Will Never Be Another You.....Warren, Gordon......download | stream
Manha De Carnaval.....Bonfa, Moria......download | stream
Don't Get Around Much Anymore.....Ellington, Russell......download | stream
Have You Met Miss Jones.....Hart, Rodgers......download | stream
Watch What Happens.....Legrand, Gimbel, Demy......download | stream
My Romance.....Rodgers, Hart......download | stream
All The Things You Are.....Kern, Hammerstein......download | stream
Miami Beach Rhumba.....Fields, Camachu, Gamse......download | stream
Body And Soul.....Heyman, Sour, Eyton, Green......download | stream
Straight No Chaser.....Monk......download | stream
Maiden Voyage.....Hancock......download | stream
Donna Lee.....Parker......download | stream