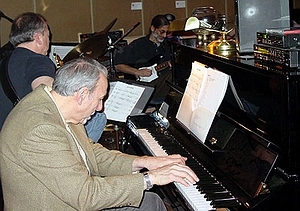 Saturday nights at Papermoon belong to [piano player*] Basil Ronzitti, and this Saturday was no exception. As part of the Erie Winter Blues Festival, Basil rounded up most of the usual suspects, along with a few special guests, to offer a tribute to the late local blues singer Bobby Grant. Joining Basil for the first set were Tony Stefanelli (bass), Frank Singer (guitar), and Joe Dorris (drums & vocals). Basil's brother Nick sat in on drums for the second set, allowing Joe to take center stage to better feature his vocals, perhaps best described as a combination of Armstrong & Waits. The group normally plays a balance of jazz & blues, but this set was more geared towards blues in honor of Grant. Listeners were treated to standards such as "Blue Monk", "All Blue", & "Killer Joe". Frank & Basil experimented a bit with some synth sounds, creating the illusion of the added textures of brass, saxophone, harmonica & organ.

Regarding Bobby Grant, Basil had this to say, "Bobby was an intuitive, sensitive blues singer. He never had to have anyone teach him anything, he just had 'the feel.' It came from inside of him." Basil especially praised the always positive attitude that Grant had in dealing with his terminal illness, quipping that he was "probably listening someplace in the crowd right now."

While this particular show was arranged as a tribute to Grant, Basil can be found settling in to play at the Papermoon each Saturday around 8:30 PM, with his group joining him around 9:30. The restaurant, priding itself on offering "an illuminating experience in the arts and international cuisine," will be celebrating its third anniversary on March 23. The bar side offers various types of local music each night, almost always free of charge. The atmosphere is warm & welcoming, the food is outstanding, and the service is always excellent. Owners Don & Ginny can usually be found either working or making sure patrons are comfortable. Look for updated information on the Papermoon website in the near future.

Also watch for Basil & Friends around town as they perform in various combinations. Basil often joins Frank, Joe, Tony, and Phil Papotnik as Cat's A Bear. Frank Singer has two new CDs out, available from his website at www.franksinger.com. You can also catch Frank and Tony on Monday, Feb. 16, for a free gig with J.D. & The Sons of Rhythm at Forward Hall.
- photo & review by Karen C. Williams

*ed.
article by
Karen C. Williams