DECEMBER 2007
Being human is often surprising.
I have never been a huge fan of winter, at least not since I was making snow angels in the Michelin Tire suit. In my early years as an adult in Boston, I came to loathe the bitter Atlantic winter wind that cut through anything, including multiple layers of clothing.
In the folly of youth, I anticipated this would only get worse with time and perhaps age (I'm not much on the aging = death formula that many operate under.) I have discovered, much to my surprise, that I feel it less now, or mind it less, than I used to.
Nonetheless, winter is indeed upon us here in the Eastern Great Lakes Region, and in fact over much of the country. It is our first kiss of the season to come (brrrrrr - I just had to say it.)
So, in true human fasion, we keep on despite the urge to cuddle next to the heating vent until June.
On the music front, 3bop has returned from its hiatus, playing at the Western Reserve on November 11, and again at the Brewery at Union Station on the first of December. It's nice to settle in to a familiar and talented rhythm section, and to welcome the additon of saxophonist Allen Zurcher for the gig on the first. I look forward to more performances with 3bop, perhaps even New Year's Eve.
One World Tribe hits Midtown Recording Studio again on the 10th, putting down one more tune before the final mixes begin to wrap up for our third CD. Shout out to new trap set addition Norby, who will record with us and fill in on in-town rehearsals and some gigs if Mark C. can't make the journey once in a while. We had a great Thanksgiving week, playing Erie's Docksider, Buffalo's Nietzsche's and Jamestown's Shawbuck's in a four-day stretch (one day off for turkey.)
The Nietzsche's gig should be posted on the One World Tribe Web Site as soon as I can do the mp3 conversions and write the code. Bandmembers who were on the gig will get their copies when I see them. The second set has some distortion on the vocals, so I am not sure if I will post all if it or not, but check the Music Page over the next few weeks and see. I have also been working on some tracks from the late '90s that Brad Amidon passed on to me - they will appear over the next few months on the same page.
I play with Dave Stevens Big Band and Helen Welch on December 7 and 8. Regular guitarist Mike Dembrowski had a previous committment for those two nights, but returns for Sunday's show on the 9th. It's always good to flex some reading chops and play with some of the best horn players in the region. Dave is also running East Erie Turners, and we are discussing some future gig possibilities there for some trios in 2008.
Too Big Power plays at Bosco's in Meadville PA on December 22, wrapping up the December season with some original Rock and Roll. It's always fun getting to play bass with Rickie Hopkins, and Joe and Keith sound tighter every gig. Come have a rockin' good time before the Holiday week at Bosco's, and don't forget to check out Ride A Wave, for sale on CD Baby and in digital downloads with several online services.
1 Grizzly Cat Place Studios (my in-house recording studio) welcoms new client John Kaliszewski, who will be using the studio for a new advertising campaign. I can't say too much now, except that it involves fudge. We are very pleased with the results of the Seawolves and Burger King radio and TV spots done here over the last couple of years, and we look forward to getting good results for John as well.
For now, that seems to be the activity on the horizon. I wish you a happy and safe holiday season, and remember to stay warm by being close to family and friends, for that warmth will not fade but prosper, much like my tolerance to winter.
peace - f
Previous NEWS FROM THE FRONT 2008 articles...
Previous NEWS FROM THE FRONT 2006 articles...
Previous NEWS FROM THE FRONT 2005 articles...
---
NOVEMBER 2007

The Great Pumpkin has arisen from the pumpkin patch, and there is a cold snap in the air, even though the weather has been unseasonably warm. Trees are emptying out this year's leaf fashions, and trimming down for winter, and the days grow shorter and the nights longer.

It has begun.

That great march into the winter months is finally upon us, overwhelming our denial and becoming too obvious to ignore.

We must prepare.

So, while you are getting out the winter clothes, cleaning out the furnace, and putting old blankets under the edges of doors, take a few breaks in November to enjoy some original and cover music.

Too Big Power hits Bosco's in Meadville, PA, on the 17th, bringing our brand of original rock-&-roll to the night. I get to play bass and jam with drummer Rickie Hopkins of J.D. and the Sons of Rhythm in guitarist Joe Frisina's group. New addition Keith Homerski brings a second guitar and vocal to the sound, filling out the already-big sound of Too Big Power.

Thanksgiving week is One World Tribe week, apparently! We play Wednesday the 21st at Docksider's in Erie, Friday the 23rd at Nietzsche's in Buffalo, and Saturday the 24th at Shawbuck's in Jamestown, NY. Come join the area's only Reggae, Funk, World Beat, Latin and Hiphop band for some stompin' Thanksgiving music.

In addition to the night life, this is a good time to grab a lesson slot. There are times when the schedule is in flux, and this is one. If you have been thinking of grabbing a weekly time, now would be a good time to contact me about scheduling in.

The home studio is also open, and I would like to remind everyone that I just acquired an excellent condensor microphone for vocals and instrumental recording. Drums are still out of the question here, but acoustic guitars and other live instruments will sound awesome when recorded with this mic. If you have projects that can use sequenced drums or no drums, contact me and let's discuss it!

Other than that, it's business as usual - raising the boy, feeding the pets and bringing original music to the people. Hopefully that will bring warmth to those who need it in the coming months. Wrap yourself in good sounds, and hunker down!

peace - f

[ top ] | [ index ]

---
OCTOBER 2007

As I write this, we are well into October. I usually try to get this update onto the site around the first week of the month, but I am just recovering from a computer crash that took out my C drive and operating system.

My tech and I have been wrestling with a motherboard that was finally replaced under warranty. As usual, because of elaborate back up and redundancy schemes, no data was lost. I'll take this moment to remind all you computer users out there - hard drives are cheap, and copying files might be a minor nuisance, but losing files is a major disaster.

Of course, reloading all your software is a pain, and things on their last legs (like my printer) don't survive the transition, but all in all it's like moving to a new house - you get to clean up a bit!

Since the last report, some great music has transpired. First of all, Cat's A Bear got to hang out with Richie Cole, Greg Abate, and Carmen Intorre. Carmen led the rhythm section from the drums, backing up these two saxophone monsters at a JazzErie sponsored event at Gannon University.

The members of Cat's A Bear attended the gig, and after catching a burning set of jazz, we joined them for after-gig drinks at the Papermoon. Most of us fell off, but the hard core were out quite late. The next day Joe Dorris hosted a long, drawn out breakfast that lasted until after three.

They were off to Cleveland to play at Nighttown that evening. We enjoyed having a family-style hang with the band, watching football, drinking coffee, and discussing jazz and music on the back porch. These are great people, and having time to chill out with them is precious, as was watching my seven-year-old son tell jokes to Richie Cole.

We also had the good fortune to play with jazz guitarist Frank DiBussolo at the Papermoon on Friday the 21st. Frank is a great straight-ahead jazz guitar player with a big sound, great chops, and some swinging CDs (for more visit his web site). He is also a blast to hang out with. He kept us all entertained with stories of his years playing with everyone from Buddy Rich to Frank Sinatra, spinning tales before the gig, during the gig, and into the next day.

The Cats hosted the last jam session at the Papermoon on September 28, enjoying the company of Mary Alice Brown and friends who spelled us for a few tunes. Mary Alice then joined Joe
Dorris for some vocal hyjinx as I got to move off of piano and on to bass and drums (but not at the same time).

Thanks to everyone who participated in these jam sessions over the last few months. This is the way jazz needs to be experienced, both for the musicians and for the listeners, who get to really comprehend just what it takes to be up there. Sadly, the Papermoon will be closing its doors in the next few months, as those involved move on to other projects.

The Papermoon provided local art, superb cuisine, and local and regional jazz in a unique and delightful atmosphere. I joked that the 'moon kept most of the jazz musicians in Erie working, and that is not far from the truth. This fine establishment will be missed, and we thank Don, Edward, Ginnie and the entire staff and crew who served us these all many years.

To note the impact the Papermoon had on Erie, here is a list of the players who joined local musicians on the stage:

Cheryl Hodge, vocals

Jay Ashby, trombone

Kim Nazarian, vocals

Frank DiBussolo, guitar

Larry Coryell, guitar

Claire Daly, baritone sax

Valerie Gillespie, sax

Greg Abate, alto sax

Steve Hobbs, vibes

Sean Jones, trumpet

John Eckert, trumpet

Virginia Mayhew, tenor sax

Bob Joslin, violin

Adam Niewood (son of Jerry), sax

Roger Humphries, drums

Joe Harris, drums

Ralph Lalama, sax

Nicole Pasternak, vocals

Kenny Blake, sax

Ed Russell, guitar

Pete McCann, guitar

To me, that is an incredible statement, showing how hard work and positive energy can bring dreams to life. Thanks goes in this regard to Joe Dorris who organized and played on these gigs, inviting various members of Cat's A Bear to join in, including me, having played with those players toward the top of the list. This was a great opportunity, one which I am sure we will build on.

After playing the jam session (but before it was known that it would be the last), I left for eastern Pennsylvania, setting off for a John McLaughlin concert at the Keswick theater. The new group is the 4th Dimension, and as usual, the players are off the hook.

McLaughlin recently became a fellow indie, leaving his last label to venture off into his own promotion and distribution. To that end, the shows are being recorded and sold at future gigs. I got a copy of September 13, 2007 in North Carolina, which rocked. Senor C.S. from Industrial Zen is on there, and they played that at the show I saw as well. It's rapidly becoming my new favorite.

His young bass player is of particular note. Hadrien Feraud plays a five string bass with the dexterity and speed equal to the task of playing unison lines with McLaughlin on more than one tune. This is no easy task!

It was refreshing and inspirational to see this show and watch the master play. Thanks to Eric for hooking me up and helping with Thomas. It was definitely worth the trip.

After a couple of weeks to recover and absorb, Tito, Tony and I played a wedding reception at the Warner. Nick played brushes and Tony broke out the upright, and we played some nice
jazz standards for the event. Congratulations to Renee and Octavio on their new life together!

One World Tribe plays here in Erie on October 27 for St. Vincent, and in November at Docksider's on the 21st.

Well, it's nice to be back online, and in control of my web site. Until next time,

peace - f

[ top ] | [ index ]

---
SEPTEMBER 2007

We are winding down to the end of summer here on the Great Lakes, I am sorry to day. Last cookouts are on the grill and fall gardening chores are set to begin. Meanwhile, the music scene continues to progress regardless of any change of season.

One point of progress here in our region is the number of people employed at the new Presque Isle Downs and Casino. One World Tribe performed there on Friday the 31st for the pre-racetrack opening. Lots of new and familiar faces filled the crowd, as we enjoyed bringing our music to the day. This looks to be a great spot for regular music of all types.

Another point of progress shows in the rapid improvements of many of those participating regularly at the J.D. Jazz Jam sessions at the Papermoon. Members of Cat's A Bear start things off and keep the ball rolling, with drummer/vocalist Joe Dorris at the helm. Soon, many dedicated students of jazz join in and explore the process of making live music. There is no other experience quite like it for taking your playing to the next level. Remember to email Joe Dorris regarding participation in the upcoming session, which looks to be brewing on the 22nd of this month.

Cat's A Bear was joined by pianist Basil Ronzitti in presenting trombonist extraordinaire Jay Ashby. Jay kept the night swinging and jamming, with soul and BeBop all coming together in one great sound. Jay was on his way back home after working with Paul Simon on an upcoming recording, and was kind enough to stop in! Bopping on tunes like Boneology and Eternal Triangle with such a skilled player was a gas, and an honor. Thanks, Jay!

Joining us for a few numbers in the first set was Jay's wife Kim Nazarian of New York Voices. Her singing was astounding, and her scat solos were off the hook. We felt her participation in the music on the same level as any top-notch instrumentalist, even as she jazzed the crowd with her phenomenal vocal sound. We were all happy to be graced by her presence, and we look forward to Jay and Kim returning to Erie in the future.

Cat's A Bear - the trio version - started off September playing a wedding for an old friend. We had a great time playing jazz and latin standards for a delightful group of people. Playing in a ballroom always challenges a band's dynamics, especially the rhythm section, but as always the control and finesse of the experienced players in this group allowed us to keep the volume down, play enjoyable music, and have a good time in the process.

Gigs in September for Cat's A Bear and company are still being firmed up, so check the calendar for last-minute additions.

On the progressive rock scene, Too Big Power returns for a couple of dates in Meadville, PA. I get to flex my bass chops with Joe Frisina, Rickie Hopkins and Keith Homerski, all J.D. and the Sons of Rhythm alumni. We play Otters on Friday the 14th, and Boscos on Saturday the 22nd. We will perform tracks from the CD Ride A Wave as well as some new material and some covers.

There was progress on the studio scene as well, with the acquisition of a Rode K2 condenser microphone for vocals and individual instrumentalists (one mic doth not a drum set represent). My son and I have been putting it through its paces, with his burgeoning ham-bone streak coming through in story-telling form. I plan on testing it more arduously over the next few days, recording some guitar and some vocals, experimenting with different spots in the house, and seeing if I can get the crickets to shut up when the windows are open...

As always, there's always more progress to be made, so we are all delving into a multitude of projects designed to get more music on CD and more performances in the Great Lakes Region. I am excited about how many directions are open to me and to the musicians around me. I look forward to updating you all as things develop.

Until then, enjoy the rest of summer (may it be long) and have a great September.

peace - f

[ top ] | [ index ]
---
AUGUST 2007
What a month it has been!
Working backwards, we start with last weekend at the Fifteenth Annual Erie Art Museum Blues and Jazz Festival, with a little Papermoon thrown in for good measure. One World Tribe started things off at noon on Saturday, presenting a number of young men and women performing with the group on African drums and with African dance. Intermixed into the performance was OWT's regular repertoire, including the Amidon classic "Mosi Oa Tunya" from the first CD, Unity and Diversity.
Making my way to the Papermoon that evening, I played bass with Basil Ronzitti (piano), Tito (congas) and Joe Dorris (drums). We had a great romp, which included a long session with visiting pianist John Novello, author of Contemporary Keyboards, Berklee College of Music's current keyboard manual. Thanks for sitting in with us, John!
The next day Cat's A Bear got to strut our stuff at the Blues and Jazz Festival, playing in the afternoon rain. We brought our original music to the people of Erie, who were receptive as always. We performed a number of new and unrecorded compositions, including Give It A Rest, Man, All Decked Out, and the new classic It's Always Something. Much thanks to the presenters of the festival for this great opportunity to present our music.
Three was the magic number for the preceding week as well, also with two on the same day. On July 26 myself, Rickie Hopkins (drums) and Kenny Cornelius (bass) of J.D. and the Sons of Rhythm, and Preach Freedom had the delightful task of playing with Valerie Horton Brown, a vocalist of great experience and professionalism who chose to reenter the music scene with this fundraiser for the Erie Art Museum.

Valerie has astounding credits in her career, including vocals with Tina Turner. This came through in her performance, enduring hard rain, microphone difficulties, and the uncertainty of live music to put on a great show for the people. It is always a pleasure to work with professionals who have such artistic Soul and such a great sound.

Preach and I rushed over to the Block Party for a couple of sets with the Tribe. The fans got a little less wet as the weather started to clear, but nothing dampened spirits that whole day. OWT played hard as we always do, bringing World Music, Reggae, Funk, Hip Hop and Latin Music to the people. Congratulations to Preach are in order for his new gig with touring and recording band Rusted Root.

The next evening I played at the Lakeshore Country Club with pianist Derf Hopsecger and violinist Lou Nicolia. Derf recently played bass for me in North East, but brought his smooth sound to piano and vocals for these sets. Lou Nicolia played violin for me on the second performance of my classical string quartet Generations. He is an excellent player with a career that's on track and includes performances at Carnagie Hall and throughout Japan.

Three again! for the week before - this time, a recording session and gig with vocalist and pianist Cheryl Hodge and Cat's A Bear, and a solo guitar gig in North East for the Down Syndrome Group of Erie County.

The recording session took place in a new recording studio in Edinboro using a ProTools setup. I am sure we will be hearing more from Nate and his studio. We recorded three of Cheryl's originals that night. She is an accomplished composer in addition to her other credits, and the Cats had a great time playing her music.
Jazz standards were the order of the day for our gig at the Papermoon. Cheryl sang classics like Desafinado and Sugar, delighting the crowd with her skill and talent. You can find out more about Cheryl and her music at www.jazzboulevard.com. She is a great all-around musician, and a gifted singer.

Playing solo guitar is always enjoyable, and helping to provide care and services for children with special needs is icing on the cake. The fundraising event for children with Down Syndrome was a 105 mile motorcycle ride, with five stops, this one the final stop. Thanks to Beth Parks for inviting me to play for this event, where the community spirit was apparent.

Solo guitar started off the gigs on the weekend before that, but there were only two gigs to play. The solo gig was at the Erie Club, where Jeff Lawson has seen fit to invite me on a fairly regular basis to play for the members. These gigs are always enjoyable, and the members of the club are very appreciative and complimentary. Thanks for the positive feedback, and for many return engagements.

The JazzErie Jazz Walk was the Saturday gig, with Cat's A Bear playing at Molly Brannigan's Bar. This was our first time at this venue, and we enjoyed ourselves very much, as did the crowd that surrounded us for our sets. Cat's A Bear presented our original material as we did at the Blues and Jazz Festival, keeping the energy high.

Coming up in August are a couple of FSG gigs at the new Presque Isle Downs and Casino, with Kenny Cornelius and Rickie Hopkins joining Tito in a jazz quartet with myself on guitar. Jazz and Latin standards will be the order of the Sundays, the 12th and the 19th.

The month ends on a jazz note, with the Papermoon J.D. Jazz Jam Session on Friday the 24th, and the guest artist performance on Saturday the 25th. The guest this time is trombonist Jay Ashby, a talented and hard-working musician who has been so busy it's hard to find out what he's been up to! Cat's A Bear will join this fine soloist to close out the summer schedule. [Those who wish to jam on Friday should contact Joe Dorris at dorris.appraisal@gte.net.]

In other news, the next J.D. and the Sons of Rhythm CD is in production, which means another month or two before release. Too Big Power looks to be playing two gigs in September, both in Meadville. I'll keep you posted here at FrankSinger.com on these and any other developments.

Enjoy the rest of summer. These beautiful days are precious; veritable currency to be stored and spent during the winter months. You can just turn the heat up and all the lights on, but it's just not the same.
Until next time,
peace - f
---
JULY 2007
Ah, the heat is upon us at last. I, alone in my insanity, look forward to this time of year, and short of instant sunburns and spontaneous fires, like it hot.
Cat's A Bear has been experiencing some heat lately. We had a banner month in June, playing for Longs School of the Dance on the second weekend, enjoying the incredible Baritone Saxophone of Claire Daly on the 16th, and taking the music to the people with the J.D. Jazz Jam Session on the 30th.
We keep it going with the JazzWalk on July 14. Cat's A Bear will play from 8 - 11 at Molly Brannigan's on State Street, bringing our original music out with some new cuts and some classics. The following week we join singer-extraordinaire Cheryl Hodge at the Papermoon. August finds us at the Jazz and Blues Festival in Frontier Park on August 5 at 2 PM. Join us for the freshest, tightest original jazz around, and bring your axe to the Papermoon on August 24 to join us for the next J.D. Jazz Jam Session.
One World Tribe makes a couple of local appearances this summer. On July 26 we play one of Erie's Block Parties, appearing at 8 PM at the intersection of 4th and State Streets downtown. I will be appearing with Preach Freedom, Rickie Hopkins, Kenny Cornelius and guest vocalist Valerie Horton Brown at Pufferbelly's Restaurant parking lot from 6 - 8 PM on the same day. It will be a quick transition, but not far to walk, hopefully! That day promises some great outdoor music, so come down and join us. OWT also plays at the Jazz and Blues Festival on August 4 at Noon.
A solo jazz guitar gig rounds out the schedule in July, with a member's party at the Erie Club on July 13. Other things to look forward to include a Too Big Power gig on September 22 at Bosco's in Meadville. Our sets on June 1 at Otter's were a gas, joined by a fun and appreciative crowd, so we are looking forward to more of the same on the 22nd.
In the mean time, I plan on enjoying the heat and the great days of summer. Remember to drink lots of water, and have fun!
Until next time,
peace - f
---
JUNE 2007
Wow! What a month.
I didn't even get a chance to update May's activities before June arrived! For a musician, that's a good thing.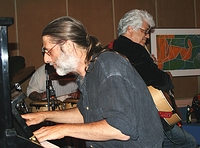 For this musician, there have been a number of good things. At the top of the list is getting to play piano with Larry Coryell at the papermoon on May 25. Joined by Joe Dorris, Tony Stefanelli and Tito of Cat's A Bear, we played standards and had a great time. Larry is an excellent guitarist and a completely professional bandleader. Working with him was easy, and was an incredible experience. We hope Larry will return to Erie in the future to grace us with his music again. Thanks, Larry.
Cat's A Bear has been very busy taking the music to the people. On May 26 we held the second Jazz Jam at the Papermoon. Many returned from the previous jam, and many new faces joined us, including Joe Frisina of Too Big Power. This power trio plays on June 1 at Otter's Pub in Meadville, so drop in for some original rock-and-roll, and check out the new CD, Ride A Wave. The next jazz jam will be held on June 30, so get in touch with Joe Dorris to organize your playing time for that.
The Cats are looking forward to some extensive playing time. In addition to the jam sessions, the Longs School of the Dance performance takes place on the 8th and 9th of June. While not exactly a jazz gig, we manage to have a great time helping the dancers do their thing. One of the reasons I was too busy to update my news is doing over 45 two-horn charts for trumpet and tenor sax, which had to be done by the 20th of May to be ready for use. Finale got a workout that week!
On June 16, Baritone Saxophonist Claire Daly returns to Erie to join the Cats at the Papermoon. Word is that Basil Ronzitti will be joining us also, so don't miss a great evening of jazz. July sees the Cats at Molly Brannigan's for the JazzWalk on July 14, and back at the Papermoon with vocalist Cheryl Hodge on July 21.
Other jazz events over the next month or so include two solo jazz guitar gigs, one on June 1 (a member's party at the Erie Club), and the second on June 2. This event is being held by Shaffer Chiropractic on W. 8th Street, just east of the West Lake Fire Department at Powell Ave and W. 8th. The event will be outside, and I should arrive to play somewhere around 2pm. I also play with Rickie Hopkins and Kenny Cornelius of J.D. and the Sons of Rhythm on June 30 for a private function in North East, PA.
One World Tribe had a great week with the elementary school students of the Warren School District, including schools in Shefield, Youngsville and Sugar Grove. The kids were great, as were the teachers, and we got a great positive response taking World Music to the young. OWT plays on June 2 in Warren, from 10am to noon.
Well, that catches us up just a little! The summer is still filling in, so keep checking for more dates and events as the warmth surrounds us for the next few months.
Until next time,
peace - f
---
APRIL 2007
Well, now that tax time has passed, life can begin to return to normal. Tax time is always challenging to those of us who file "Schedule C" forms, which are the self-employed profit-or-loss forms most musicians have to file. That means I have to actually keep track of my life, at least enough to provide figures to the IRS.
So I'm glad to get back to the business at hand: music!
Over the last month some good music and good learning has taken place. One World Tribe played a number of services for elementary school students in Buffalo, NY and Franklin, PA. It is always great to take the music to the children, and their teachers, and the results were fantastic!
The OWT drummers and dancers took a group of students from Franklin and in three days, prepared an amazing presentation. The kids were confident enough to have fun in an improvised dance circle at the end, where each student strutted their stuff for their friends and instructors. Preach finished up with some serious moves of his own, leaving them dancing, singing and laughing as we pulled out of the parking lot!
The Tribe plays Saturday the 5th at Shawbucks in Jamestown, NY, and in Sherman, NY, at the yearly Barn Dance on Sunday the 27th.
Too Big Power got to strut our stuff at Bosco's in Meadville, PA. The trio did cuts from the new CD Ride A Wave, some new material not on the CD, and a few Grateful Dead songs. Guitarist, Vocalist and Songwriter Joe Frisina provided the bass rig for me, for which I am always grateful (though very much alive.) Rickie Hopkins of J.D. and the Sons of Rhythm played his usual rockin' set, showing his beastly side on some insane drum solos. We had a great time, and Bosco's made us feel welcome.
You can purchase Too Big Power's CD Ride A Wave from CD Baby.com, and enjoy these original cuts whenever you want.
Cat's A Bear played a couple of songs for the Spelling Bee at Jr.'s Last Laugh. The bee was sponsored by Books For Kids-Erie and WQLN Literacy, and all the proceeds were for those children's literacy programs. We would have liked to play more, but the contestants were ready to spell, and they were still at it three hours later!
Cat's A Bear also organized our first jam session at the Papermoon, with Tony Stefanelli on bass, Tito on Congas, myself on piano, and Joe Dorris on drums and vocals. Joe did the bulk of the organizing for the event, and is the contact person if you are interested in the next session, which will take place on May 26th.
A number of musicians joined us on stage, including music store owner Jim Lynch and trumpeter Dale Zimmerman (of Dave Stevens Big Band.) The ensemble played a mix of jazz standards and Latin tunes, and if you are interested in playing, being familiar with that material is recommended. Many of the songs listed in the Tritonic Reharmonization section were on the list, although the chord changes used at the jam are the "Fake Book" changes, not the reharmonizations.
Preparations for the yearly Long's School of the Dance performance at the Warner Theater in June are proceeding earlier than usual this year. Most of the charts are done and assembled, and 1 Grizzly Cat Place Studio prepared ten cuts of dance music for the youngsters. These cuts will be used in the performance, so parents are purchasing copies for their children to practice to. So far the tracks turned out great, with Laurie Hitt playing the piano parts, myself handling the rest of the music, and Joe's daughters Zoe and Diva provided vocals on three of the tracks.

Vinnie Stefanelli returned with a new client - the Erie Seawolves. We prepared a 60-second spot for radio, with the hook "Seawolf City." Cousin Dave Devine wrote and sang the theme, and with Vinnie's oversight, I filled in the rest with some sequenced drums and live bass, and a few odds-and-ends to make it right. Listen out for it on your favorite commercial radio station.

Justin Voty continues his work hear at the studio on his first Speaking Gaiwiio release, Transcending Borders. This eclectic collection includes country, reggae, and acoustic music, and Rusted Root member Jim Donovan recently added his tasty drum tracks to the mix. You can find out more about this project at www.speakinggaiwiio.com.

Plans are under way to improve the capabilities of 1GCP, with an eye (or ear, as the case may be) towards adding vocal capability and headphone setup. I am looking at a few other musical purchases as well, all to take place before the end of this fiscal year.

You see, I realize I'm going to need a few deductions for next year's taxes.

Stay solvent, but don't liquidate! See you around the musical neighborhood.
Don't forget to check out the Jam Along Blues CD if you haven't already, and Ride A Wave for some great original rock and roll.
Until next time,
peace - f
---
MARCH 2007
We are thawing out here in the Eastern Great Lakes Region at last - balmy days in the mid-thirties with periods of actual sunlight are beginning to awaken the frozen populace.
Although it's too early to start using the word spring, I find myself looking into the coming month to see what's brewing. There is actually quite a bit.
On the band front, One World Tribe gives a daytime presentation in Buffalo at an elementary school on Monday the 12th. We play Shawbucks in Jamestown, NY on Saturday the 24th, and are in the Franklin, PA School System the week of the 26th. We are back in Erie, PA at Docksiders on Friday April 6. For those who ask me when OWT will be back in Erie, here's your chance to catch us at home.
The Tribe is also hard at work on CD number three. Basics, rhythm and solo dubs and horns are all done, and background vocals are in the process. We are recording at Midtown Recording Studio where we recorded The World Today. At least a couple of my Hiphop originals will be included, along with some world beat, latin, funk and reggae.
Too Big Power's CD, Ride A Wave, has just been released and is available on CD Baby. Guitarist, vocalist and composer Joe Frisina leads the way on fourteen original rock and roll songs, with Jayson Hopkins of J.D. and the Sons of Rhythm on drums, and myself on bass, keyboards, acoustic guitar, and some of the electric guitar solos.
We are playing in Meadville at Bosco's on the 17th, performing the album cuts and some Grateful Dead for the night. It will be a trio, with Joe, myself on bass and Rickie Hopkins playing the live traps. Check out the new CD if you can't catch us live, or even if you can!
The core trio of Cat's A Bear makes a couple of outings. On Tuesday the 20th Joe Dorris, Tony Stefanelli and myself play at Junior's Last Laugh in downtown Erie, PA for a fundraiser. Books For Kids-Erie and WQLN are sponsoring a spelling bee to raise money for literacy work in Erie County. Anyone who would like to flex their spelling chops is welcome to come a try their hand at it. We will play from 6:30 to 9:30, and the spelling bee will take place afterward.
On April 7 we will play at the Papermoon in downtown Erie, PA as J.D. Jazz. This will be a jazz standards jam session, with myself on piano, Tony on upright, and Joe playing some drums, percussion and singing. Musicians are invited to come and play a couple of songs, but are asked to contact us ahead of time through the Cat's A Bear Web site (the booking page has all the email addresses) to organize material.
On the studio front, the initial Long's School of the Dance recordings are finished, sans some final touches before they are transferred to individual masters. We prepared ten dance numbers about two and a half minutes in length each, designed for pre-school through elementary school-level dancers. These are slated to go on sale in the spring, available for dance studios and ensembles. Joe's daughters Zoe and Diva provided some vocals on three cuts, including Hey Daddy, with very appropriate lyrics ("Hey Daddy, I want a brand new car...".)
The Burger King ads prepared for Vinnie Stefanelli are now audio tracks for a number of television commercials in the regional market. Listen out for Dave with the latest specials! I have also been working on some other projects with students, including Speaking Gaiwiio's Justin Voty, who is working on upcoming CD Transcending Borders.
I have also been putting together a number of Hiphop music tracks, some for myself and some for practice and whatever may come up. This kind of work really lets me explore the studio and dig deeper into the potential of what can be done. I have kept warm over the cold snap by keeping the music hot, and with both computers on, the room as well!
Don't forget to check out the Jam Along Blues CD if you haven't already, and Ride A Wave for some great original rock and roll.
Until next time,
peace - f
---
This month I am taking a departure to address an aspect of an issue currently in the news, global warming. The UNís Intergovernmental Panel on Climate Change has expressed a 90 percent certainty that global warming is a man-made condition. While some still express skepticism, most have accepted the conclusions of the panel as accurate.
[Assessment Report:
http://www.ipcc.ch/pdf/assessment-report/ar4/syr/ar4_syr.pdf
UNís Intergovernmental Panel on Climate Change]
Even if this is not the case, I would still like to use this opportunity to advocate a natural, non-polluting product, hemp. This miraculous little plant fiber can provide an almost-ridiculous list of products, virtually all more "green" than their commercial counterparts. This includes textiles and fabrics, cordage, medicine, food, lamp oil for lighting, paper, legal tender, methanol (as a fuel), the manufacture of plastics, paint and varnish, sailcloth and rigging lines, song-bird food, dynamite and Cellophane. I have even heard of a company in Seattle that is making structural housing beams from hemp.
Historically hemp has been with us as far back as we can know. It has a long history as a medicine, even used by Queen Victoria to treat menstrual cramps. It has been shown to reduce the size of many types of tumors, both benign and cancerous. Companies such as Eli Lilly, Parke-Davis, Squibb, Brothers Smith and other firms produced these medicines until the early 1930's. During this time, not one death or severe side-effect was recorded as an attribute to use.
Many great books and papers were printed on hemp paper, including the Gutenberg Bible, early copies of the King James Bible, the original Alice In Wonderland, and the first and second drafts of the Declaration of Independence of the United States.
Painters who have used hemp canvas include Rembrandt, Gainesborough, and Van Gogh. Hemp canvas was strong enough to make the parachute that saved George Bush Sr. when his plane was shot down in World War II.
Other political figures involved with hemp include George Washington, who's Continental Army wore hemp clothing, and like Thomas Jefferson grew hemp as a plantation crop. Abraham Lincoln used hemp-seed oil for household lamps, as did many in his day. Benjamin Franklin began one of America's first paper mills with hemp fiber. Our first flag was made of hemp fabric.
Hemp seed is a protein source which even helped Australians survive famines. The oil produced from the seed is lower in saturated fats than any other vegetable oil, it can be made into a margarine, and hemp seed is an excellent feed for domestic pets and farm animals.
And yet, growing hemp in the United States is prohibited, with the exception of an experimental program taking place in Detroit. Of course, this is the result of the association with marijuana, a substance currently prohibited by the federal government.
My personal position on this is that the war on drugs, especially marijuana (which is not technically a drug, but misclassified by the DEA for political reasons), is a complete waste of time, human resources, and especially money. In addition, it's being used as an excuse to prevent farmers from growing hemp on American soil, which could be a huge boon to an industry that has struggled for many years.
I have worn hemp clothing, eaten hemp foods, and used salves with hemp-seed oil for topical application on burns and stings. Many of these items have now become too expensive or hard to find, as the bulk of our hemp is imported, especially from China and Canada.
I think global warming could help bring this issue forward, since it so clearly addresses it. Hemp is a perfect third-year rotation crop, and when the hemp is allowed to fall and die on the soil, adds nitrogen to the soil, something which is typically done through chemical process. Bio-mass fuels which pollute much less than the current petroleum-based fuels could be produced from hemp, moving towards the freedom from foreign oil that many are currently seeking. Current paper manufacture could move from trees to hemp, keeping more of our natural air filters alive and creating paper with little or no chlorine in its production. Textile manufacture could be much more "green-friendly" using hemp as a basic thread rather than cotton or manufactured textiles.
There are many other attributes of this naturally-growing plant that could help reduce greenhouse gases and pollute less or not at all. Here is a list of some links to get you started on finding out more:
COMPREHENSIVE
http://www.globalideasbank.org/site/bank/idea.php?ideaId=1814

GLOBAL WARMING
http://www.ukcia.org/industrial/hemp/globalwarming.html

"One acre of Cannabis Hemp can produce 1000 gallons of methanol in a single growing season."
http://www.hempevolution.org/ecology/ecology.htm

ENVIRONMENTAL
http://environment.about.com/od/
greenlivingdesign/a/hemp.htm

FARMING
http://www.treehugger.com/files/
2007/01/hempfingerprint.php

http://supak.com/hemp/hemp.htm

http://www.hempfarm.org/

http://www.globalhemp.com/Archives/
Essays/Biofuel/energy_farming_in_america.shtml

INDUSTRIAL
http://www.votehemp.com/

http://www.crrh.org/

http://www.hempnation.com/

http://www.care2.com/c2c/groups/
disc.html?gpp=714&pst=664639&archival=

FUEL
http://www.hempcar.org/petvshemp.shtml

FOOD
http://www.drbronner.com/alpsnack_index.html

http://www.alternet.org/envirohealth/
40639?comments=view&cID=186979&pID=186909

http://www.hempfood.ca/
My purpose here is to help educate those who visit my site, and to spark learning and interest in this great plant. I hope you will follow some of the links given and learn more so you can educate your friends and families, and participate in the political battles required to change laws that are currently working against us rather than for us.

Thanks for taking the time to consider this topic. I think it is an important one, and like so many issues, the solution is there but the political will is not. That aspect will be up to us. I hope you will join me in making the effort to change. As we say in One World Tribe, we're just trying to change the world one person at a time.
peace - f
---
JANUARY 2007
That which does not kill me makes me stronger.
These are words to live by in times of toil and struggle. This month ended up being such a time; although the results were generally positive, the pace made it hard to reap the rewards.
Things started out normally enough. Venus made a strong first showing at Scotty's Jazz and Cigar Bar in Erie where we will re-appear on February 9th for another evening of eclectic pop and jazz. The group will also appear at the Ambassador Hotel on Peach Street in Erie on February 24.
One World Tribe made the long road trip to Brooklyn, New York, to perform at a benefit for the Partisan Defense League. Sean Clemments, who performed and composed music for The World Today, D.J.s at Southpaw, the club that hosted the event. He joined us for some of the sets; it was a pleasure to spend some time with him!
We played Shawbucks's in Jamestown, NY, the following weekend, and returned there on January 6, our first gig of '07. In between, we played on Christmas Night at Docksider's in Erie, sharing our holiday with family and friends.
This is where it starts to get crunchy.
First, OWT is headed back into the studio for CD number three. We have been rehearsing a lot in between gigs, getting old and new material ready for the sessions.
Second, I was invited to perform with Plato's Cave at the Docksider's Tavern on Saturday the 30th. The performance proceeds were donated to the Rockhouse Arts Foundation who will use the funds to purchase instruments for children. This also included a four-hour rehearsal on Friday.
Third, Bill Burke, who plays a Warr Guitar, an 8-stringed instrument which allows him to play multiple part compositions simultaneously, was in need of a keyboard player for Friday and Saturday. His keyboard player had become sick that day with bronchitis, so I agreed to join Bill and Randy Hetherington of Midtown Recording for the two gigs. The Friday job was at Scotty's, and Bill opened for Plato's Cave at the Benefit on Saturday.
With Friday and Saturday rehearsals and lessons on top of all of that, it made for a long week. Luckily, I had the next few days off, and rested with my family for New Years' weekend.
Coming up in January are two Papermoon gigs (Saturday the 13th and 27th) and a One World Tribe gig (at Behrend; Wednesday the 17th from 11am to 2pm).
On the studio front, the Jam Along Blues CD is now available, and the website containing the sheet music with all the material pertinent to the CD is online at JamAlongCDs.com/Blues. The materials include the progressions in Concert Pitch, Eb and Bb, and all of the solo scale material as well.
With the on-going work for Burger King and other student projects, 1 Grizzly Cat Place Studio is becoming a busy place.
And so, I have survived another onslaught. Emerging with better reflexes, more songs memorized, and a few more kids playing instruments around Erie, I would say that I am stronger - and still kickin'!
Until next time!