Wed, Dec 9th, 2009 3:33 PM EST
Charlie Banacos

I have sad news. Charlie Banacos has died. For those who don't know, Charlie was music instructor to many jazz greats, including Mike Stern, Bruce Gertz, John Novello and Jerry Bergonzi. He was a ray of pure light in the jazz instruction world. One of my greatest accomplishments was "graduating" on guitar with Charlie,... going back for piano! Perhaps the greatest jazz instructor of the 20th century, He will be missed.

The family posting follows:


"Dear friends,

We deeply regret the news we are about to tell you.

Charlie Banacos passed away last night, December 8th, just minutes
after 8 pm. It was a very peaceful and quiet passing, and he was
surrounded by loving members of his family.

As you know, his cancer was very aggressive. By the time he knew he had
cancer his body was already significantly compromised by the disease.
Unfortunately his body was already stressed and weakened before
starting treatment and the chemotherapy stressed his body even more.
Charlie had a much better chance to extend his life by trying
chemotherapy and it was his choice to try everything possible. Even
though we knew the cancer was advanced, we are so shocked by how
quickly he passed. Monday morning the doctors said they expected him to
be in rehab by the end of this week.

You should know that Charlie was of strong mind and in good spirits
throughout his ordeal, and kept an unwavering positive attitude during
the past few weeks. More than a few of the doctors and nurses commented
on how much they enjoyed treating Charlie, for he was always quick with
a joke and was determined to live each moment in a positive way.

I think most of you also sensed that besides his love for being funny,
and all things goofy, he had a deep spiritual side and connection with
God. He spoke very openly about dying. He was not afraid and he didn't
want us to be afraid. The most negative thing he said over the last few
weeks was 'What a drag!' When the doctor told him his diagnosis he said
"Good job with your diagnosis. Looks like I'm headed for the last
round-up!" The doctor looked at him, after seeing Charlie in pain for a
week already without it ever affecting his emotional strength, and said
"Charlie, you're a very strange man."

The many cards and e-mails brought Charlie much comfort over the past
few weeks – and he was grateful for all of them. We found many of your
well-wishes to be inspirational, and some provoked a few good laughs
(we all know how much Charlie appreciated a good punch line). Many
messages to Charlie were like variations on a theme: "How Charlie saved
my life..." "How Charlie believed in me when no one else did..." "How
Charlie lifted a great depression off of me..." "How Charlie made me
feel like I was his only student..." It's nice to remember what Charlie
once said in an interview, "Sometimes I get asked "Who's your best
student?" or "Who's your favorite student?" and I always answer that
it's the student I'm teaching at the moment." As a teacher and mentor,
his students were very much a central part of his life. The lessons and
music you shared brought great fulfillment to his life for many years,
as you are all probably well aware. In many ways, you are like an
extended part of his family, and he was deeply touched by your
well-wishes. He would have loved nothing more than to continue teaching
for many more years.

You may find comfort, as we've had, in the following story: Two weeks
before Charlie was born, his mother had lost a 6-year-old son to
cancer. Charlie always said that he and his mother had a very special
bond. He came into her life to heal her pain and went through life as a
healer in many ways. Two weeks ago, Charlie's mother of 94 years passed
away. She lived with Charlie and his wife for over 20 years. (That's a
lot of greek cookies!) We called her Yia Yia, greek for grandmother. A
couple hours after her passing, a new nurse came in to see Charlie in
his hospital room. She greeted him and told him she was there to take
care of him. She said "If you need me, call for me. My name is Yia
Yia." Charlie and his family found this event to be very mysterious and
comforting.

We want you to know that we feel everything that could've been done to
help Charlie was done. We had complete confidence in the team of
doctors and nurses that cared for him. How touching it was for us that
they even spent time by his side with our family before he passed. The
nurse Yia Yia was there too.


While we are all greatly saddened by his loss, he´d call us all "nuts"
if we sulked for too terribly long. It´s important to remember that his
knowledge and teachings live on in all of us, and he´d undoubtedly want
to see that put to good use. So "keep cookin, burn and kill!" and make
each day your own masterpiece.

Charlie will be missed by us all. We will pass along information for calling hours once arrangements are finalized.

If there's anything else we can do for you, you can write to us at his email address charliebanacos@gmail.com. Just be aware we may receive many emails and our response time may be delayed, especially this week.

Sincerely,

The Banacos family... Margaret, Peter, Jennifer, Barbara, Christina, Ross, Paul and Kristi"

Tue, Nov 24th, 2009 1:11 PM EST
JD Jazz Christmas CD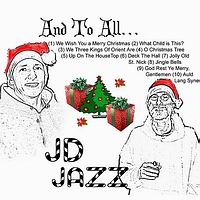 Cat's A Bear drummer Joe Dorris and guitarist Frank Singer have combined forces yet again to produce their first jazz Christmas CD. Entitled "And To You...", the CD contains 10 Christmas classics, stylized to swing and groove in the JD Jazz way.


This is the duo's second release. The first, "And That's OK..." is still available from the musicians themselves, as is the new Christmas disc.


You can get the disc at some upcoming gigs, including December 3 at Jr.'s Last Laugh, with JD Jazz and the B Band hosting a jam session after 8pm. Also coming soon is a JD Jazz and the B Band gig at the Jive, 1014 State. This will be on Saturday December 12 from 2-5pm, and is also a jam session. Bring your axe, have some coffee, and pick up a few Christmas CDs for stocking stuffers!


The Christmas CD can also be purchased at the Jive Coffeehouse, Lynch Music, and Romolo Chocolates, and will be available on line at CD Baby as soon as they have processed the disc and gotten it online. Try the link every few days until it works!

Wed, Nov 18th, 2009 9:16 AM EST
Corey Wilkes & Roby "SuperSax" Edwards


Ahimsa Beat brought their brand of Avant Funk jazz to Docksider's last weekend, and were joined by two of the world's premier jazz horn players. Trumpeter Corey Wilkes of Art Ensemble of Chicago and Ethnic Heritage Ensemble, and Saxophonist Roby "SuperSax" Edwards graced the stage with their tremendous musical accomplishments, whipping the crowd into a frenzy of funky delight.


We are honored to have these gentlemen bring their music to Erie, and share this American Music fire. Both musicians have recorded studio cuts with Ahimsa Beat, and we are looking forward to releasing this disc as we get more guests recorded. You can hear Corey on the "Ballad of Homeless Joe" cut at Ahimsa Beat's MySpace Page.


Sun, Oct 11th, 2009 10:56 AM EDT
Great Jazz in Erie

This was a great week for guest artists here in Erie. On Wednesday JD Jazz at Cevichi's was joined by bassist extraordinaire Tony Grey. Tony played great solos and added his finesse to our evening of jazz standards. Find out more about this up and coming bassist at:
TonyGrey.com |
MySpace/TonyGrey |
YouTube/TonyGrey.


On Friday Ahimsa Beat at Nelson's played their brand of original Avant Funk with world-class violinist Christian Howes. Christian also joined hard-bop trio 3bop at the Jive (1014 State), Erie's new coffeehouse and jazz lounge, for jazz and hard-bop standards. In both cases, Christian wowed audiences with his solo violin pieces and his sensitive ensemble playing. Find out more about Christian at:
ChristianHowes.com |
MySpace/ChristianHowes.

Mon, Sep 28th, 2009 2:53 PM EDT
In Memory of Lucy

On September 25, 2009, we said goodbye to our faithful dog Lucy. She brought joy and kindness to our family for 13 years. Her backyard misses her very much, but she has gone to play with Maxine and Sophie (the dog). We miss her very much.

My son drew this for her on her last day. I think she liked it.
Mon, Sep 28th, 2009 11:27 AM EDT
JD Jazz "And That's Okay..."

For those in the Erie area, you can check out the new JD Jazz CD with Cat's A Bear's Joe Dorris on vocals. We are currently only selling the CD locally, at gigs and through personal contact, so contact me at frank@franksinger.com to find out more or get a copy.



---